Under the direction of the Board of Directors, the  Chief Executive Officer and President are responsible for hiring and assigning staff to conduct the daily operations of the agency. The President and Chief Executive Officer provide leadership and management to the agency and oversees the Administrative Unit which includes: Finance and Operations Director, Human Resources Director, Administrative Services Director, Strategic Development and Communications Director, Finance Unit, Human Resources Unit, Information Technology Director, and the Receptionist.
The Administrative Unit is responsible for:
overseeing programmatic operations of four units

organizing the agency units in the most effective manner to carry out its purpose

developing goals, objectives and work plans for the consideration of the Board of Directors

support, honor and value the agency's most important resource, it's people

personnel policies and procedures

employee relations

personnel records management

benefits administration

worker's compensation / safety program administration

providing an accounting system for the entire agency

processing payroll and vendor checks

ensuring that all documentation is in compliance with all rules and regulations of our funding sources

submitting monthly reports to funding sources

providing a monthly budgeting report to the board of directors

ensuring all audits are completed appropriately

working with all units of the agency to develop additional resources to meet the

goals and objectives of the agency

educating the public regarding the services provided by the agency to address the needs in the community

technical support both for hardware and software components

system management, reporting and training.
Sincere Thanks to our Friends and Community Partners
It is impossible to name every individual person or all the organizations who have contributed to the work of Community Action. Our sincere appreciation to these partners:
Businesses

School Districts

Community Colleges and Universities

Doctors, Dentists and Other Health Care Professionals

Mental Health Care Professionals

Health Departments

Hospitals

Contractors

Utilities

Churches and other Faith-Based Organizations

Senior Centers

Community Groups

Banks

Missouri Senators and Representatives

County Commissioners, Mayors, and other Locally Elected Officials

Foundations

State, Regional and National Offices and Associations

All of Our Funding Sources

Local Media

Volunteer Organizations

Individual Volunteers

Contributors and Supporters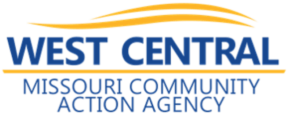 West Central Missouri Community Action Agency
112 West 4th Street
Appleton City, MO 64724 
Phone: 660-476-2185   Email: info@wcmca.org