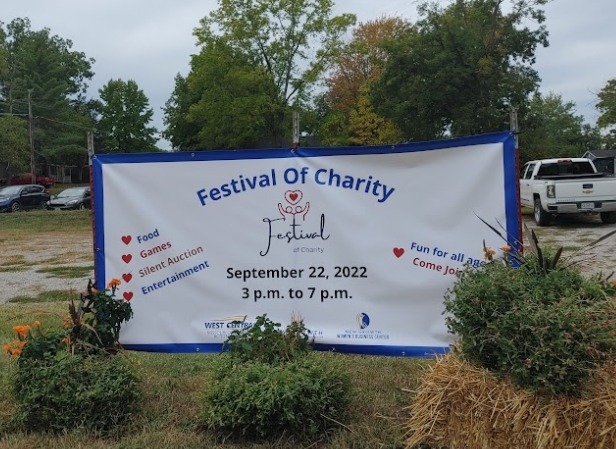 Festival of Charity is an annual event sponsored by West Central Missouri Community Action Agency in recognition of all charitable and not-for-profit organizations in the area, as well as local and county governments, and other entities who support charitable work in the community. We hope you will join us again this year!
Here's a look back at 2022!
Thank you to everyone who attended the Festival of Charity at the Liston Center on September 22!  This was the Agency's first "in person" festival, and it was a great success!  The sign-in sheet showed 135 attendees (75 staff and 60 others).  Actual attendance was likely more, since many people missed the sign-in sheet.  Activities indoors and out gave attendees plenty to do – each unit sponsored a booth and a game, including a Photo Booth, Duck Pond, Rock Painting, yard games, and Face Painting. The MAC was also on-hand. Simply Be Day Spa, Parents As Teachers, On My Own, Crowder College, and Compass Health had informational booths. Other non-profit organizations in attendance included Katie's House, Ministerial Associations, the Hope Center, Vernon County Economic Development, Dog Nation, and others.
Food was provided by Bella's Street Tacos, Dusty Bob's, and Katrina Hershberger Cakes. And, the evening featured first-class entertainment with the talented Aaron Franklin and Charlie Davison of Centerline, and Ginelle Esry from El Dorado Springs. A special thanks to the weatherization crew, who saved the day with ice and bottled water!!  Nick Stacy was the winner of $3,220 in the 50/50 drawing. Thank you to everyone who sold tickets!  Several staff members sold $500 or more in tickets and earned a day off work!!  Great job!  The silent auction brought in $1,762, bringing the total event proceeds to $8,202. Thanks to the wonderful donations to the silent auction, as well as the bidders! 
Two area non-profit agencies, the Stockton Ministerial Alliance and the El Dorado Springs Ministerial Association were each recognized with a $500 donation.  A $500 drawing was held for additional non-profits in attendance; On My Own, Inc., was the winner.
The September Board of Directors meeting was held in conjunction with the Festival, providing our board members the opportunity to participate in the event and tour the building.
Future Festivals of Charity will rotate through the region.  Ideas for improving the event are welcome! Please share with administrative staff.
We hope those attending the Festival of Charity enjoyed fellowship with other West Central team members, other agency partners, and members of the community. It takes everyone to achieve the great work of community action!